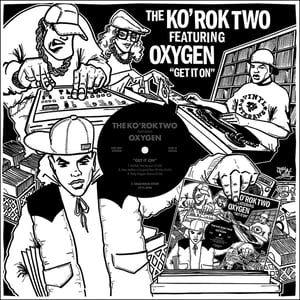 £

8.99
Artist: The Ko' Rok Two featuring Oxygen
Title: 'Get It On'
Format: 12" Vinyl
Label: Cold Rock Stuff
Cat #: CRS-001
Track Listing:
A1. The Ko' Rok Two Remix
A2. Mac McRaw's Original Raw SP Mix
A3. Daily Diggers Remix
B1. The Ko' Rok Two Instrumental
B2. Mac McRaw's Instrumental
B3. Daily Diggers Instrumental
Includes Mr. Krum's old school press sheet & Cold Rock Stuff stickers - exclusive to orders placed directly from this site.
Mini mix of all three versions, in order, on 12"...


Postage & packing costs:
United Kingdom = £3.75 (add £0.50 for each additional 12").
Europe = £6.00 (add £3.00 for each additional 12").
Rest Of The World = £8.50 (add £5.00 for each additional 12").
IMPORTANT! Orders for clothing and vinyl cannot be combined automatically via the Big Cartel checkout system, please order seperately and you will be refunded the difference after your package has been shipped.