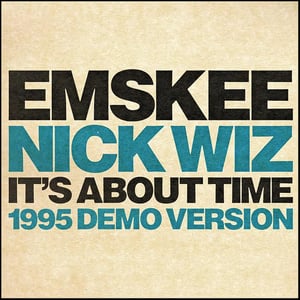 £

4.99 - On Sale
Artist: Emskee / Mac McRaw / Nick Wiz
Title: "It's About Time"
Format: 7" Vinyl
Label: Cold Rock Stuff
Cat #: CRS-7002
Track Listing:
A1. It's About Time (2015 Raw SP Version)
B1. It's About Time (1995 Demo Version)
Mac McRaw and underground New York emcee Emskee met purely by chance whilst sharing the same subway carriage in Brooklyn back in 2012. The following day they reconnected at Big City Records in Manhattan for the closing of the legendary store, leading them to discussing a possible collaboration project in the future. Fast forward to early 2015 and on hearing, and really feeling, Emskee's unreleased 1995 Nick Wiz produced track 'It's About Time', Mac asked Em about releasing it on a 7" with a McRaw remix on the flip. Emskee was totally down with the idea but came up with an even better one; revising his lyrics and re-recording them for a completely new version.
So what we have here is the original 1995 un-released cut, produced by underground NYC producer Nick Wiz (Cella Dwellas, Rakim, Mad Skillz, etc), and a brand new take produced by Mac McRaw. The original is in that classic 95 NYC Hip Hop mould; from the intro horns to the knocking SP programmed drums, bass stabs, funky vocal samples and vibes. Emskee goes in hard, addressing his early years of shopping demos and the classic radio spots he recorded for Kid Capri, Awesome Two and Wendy Williams. This track receiving a vinyl release is a real treat for all fans of 90's Hip Hop.
Mac McRaw's version hits hard from start to finish with no holds barred scratches over a raw drum loop and relentless guitar and Hammond stabs. Emskee comes in with tough lyrics conveying his 'no sell out' attitude and how he stays motivated in the world of industry politics and shady label sharks. With Mac's trademark raw, funky SP sound, lo-fi chorus cuts and horns, this makes for a very heavy track indeed!
Housed in a full colour, top opening picture sleeve, this is an essential double-sider - a must have for collectors of classic Hip Hop on vinyl.
300 COPIES PRESSED - SHIPPING COMMENCES 14TH OF SEPTEMBER.
N.B. - All orders will be sent via Royal Mail with 'Proof Of Postage' being obtained for every package. Please refer to our "Shipping Policy" for additional options.
Postage & packing costs:
United Kingdom = £2.00 (add 50p for each additional 7").
Europe = £4.00 (add 50p for each additional 7").
Rest Of The World = £5.00 (add £1.00 for each additional 7").
IMPORTANT! Orders for clothing and vinyl cannot be combined automatically via the Big Cartel checkout system, please order separately and you will be refunded the difference after your package has been shipped.